Your Knitting Or Crochet Hero
Blog about someone in the fibre crafts who truly inspires you. There are not too many guidelines for this, it's really about introducing your readers to someone who they might not know who is an inspiration to you. It might be a family member or friend, a specific designer or writer, indie dyer or another blogger.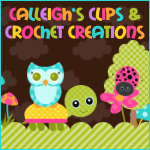 The idea of having a cape that lays on the back of a newborn during a photo session is genius! I hope some day lightning will strike and I can come up with an idea as revolutionary as this one. Most of her designs are critter capes, but she has other cool designs, too, some of which are free.
She conducts her business with integrity and handles sticky situations quite well. It seems there is a fair amount of theft in the crochet world (pattern theft, photo theft, etc.) and Elisabeth has not been exempt. Each situation I witnessed was handled gracefully and politely. Most of them being resolved without heartache. Now, there was this one that was a direct attack on her. Even with that one, she came through with dignity. I could only hope that if I were in the same situation, my actions would be similar.
Inspiration from Elisabeth Spivey: Do not react! Stay calm, clear-headed and in control. Plus, the gorgeous designs!
She has many, many more clever items that I have yet to make.
Photo used with permission from Elisabeth Spivey.
Here is a short list of other designers that inspire me:
Crochet My Love Designs by Dusty Geest
Heidi Yates from Snappy-Tots
Tina Sanders from Peacefully Knitting in Arizona